Confidence and uncertainty
My training this winter has been going really well. I have been feeling stronger than ever and running faster than ever. On Tuesday mornings on the indoor track in Sätra I have really felt the improvement. I've never been this close to Jonas on the intervals. It also feels like my focus on hill running has paid off, as I can hande the uphills better than last year.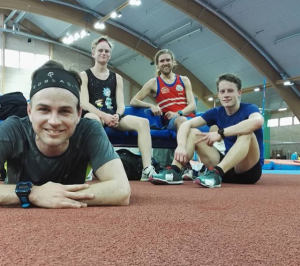 Despite having a tough spring in our family, with a lot of mental strain and sadness, the training continued well. I showed that my shape was good by being fastest at our sprint & long test races in Skåne, before getting sick and struggling with my body for some weeks. After almost 2 weeks of slow recovery, I was starting to feel strong again, but had a nightmarish 10mila where my stomach became really bad, and I could barely finish the race. Dissappointed and sad about letting the team down, and also scared and concerned about it affecting  my EOC performance.
I do feel recovered now, but there is still quite a lot of uncertainty about my physical shape. I think it will be good, but I don't know. We will see on Sunday!