O-technique in Turkey
I've spent a week in Turkey (Antalya, more precisely) with the Swedish national team, getting away from the snow and ice of Sweden. It's good to get the opportunity to do a lot of running and orienteering. The week's training summed up to 18 hours, with 285 controls taken. Some of the sessions were really nice. I especially enjoyed the Titreyengöl map, were the fridays WRE-sprint were held. I returned to the map twice after the sprint, once for som  night "Keps-O" (a kind of night relay), and once to run the W21E course.
I also ran three competitions, with quite good results. My legs weren't feeling that good, so I had to fight quite hard to keep up a good speed. I'm quite satisfied with my orienteering, and the results were OK as well.
Map, day 1, middle
Results, day 1, middle
Map, day 2, WRE-sprint
Result, day 2, WRE-sprint
Map, day 3, long
Results, day 3, long
The long distance map was pretty awesome, as well. Really cool rocks and ruins. I would really like to go back to that map for a few training sessions some time!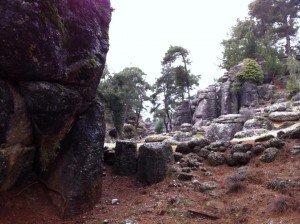 The rest of the maps can be found in my digital orienteering map archive.