Nordic Orienteering Tour
The past week has been spent on tour with the swedish national team, during the second round of World Cups this year: The Nordic Orienteering Tour.
Stage 1 – Sprint Norway
The first race of the tour went pretty much as expected for me. A stable performace, and even though I didn't feel so good physically I made a good result, with a 7th place. I did some bad route choices, and was pretty slow in the beginning, and with the sprint races being extremely tight, a clean race would have taken me top 3. But I am still happy with my 7th place.
Stage 2 – Middle Norway
This was perhaps my best race in the week. I felt quite strong all the way, and navigated really well. After two thirds of the race I was in a clear lead with almost 40 seconds to Carl, but some bad route choices  ruined my day, and I finished in 2nd place, only 3 seconds behind. I'm really happy with that, but I can't help but being a little disappointed that it didn't become a 1st place. I was running fastest, and navigating best into the controls. But I really don't have enough experience in this kind of norwegian terrain, and it is difficult for me to tell what route is the fastest, and that made me lose my first World Cup victory. But, as I said before I'm happy with my 2nd place.
Stage 3 – Knock Out Sprint Sweden
The qualifier was quite good, but apparently I lost some time in the beginning of the race, and it was with a narrow margin I qualified for the final rounds. The semi final was also good, where I was a bit behind in the beginning, but in the butterfly in the forest I took the lead, and then didn't give it away any time during the race. I could quite easily win my heat, and it was all focus on the final. However, that was kind of a disaster for me. After having a quite good position the first few controls, I lost a few seconds on some cars being parked in my way, and the ones taking the other route choice was suddenly ahead of me. At the next control the punching became quite chaotic, I lost touch with the map, and ended up taking a worthless route choice. And the rest of the race I was just running and hoping for a mistake from the group, but, of course, it never came, so I finished 8th, and last in the final. A shame, since I felt quite strong and might have had a chance of challenging for the win.
Map, qualifier (coming soon)
Results, qualifier
Map, semi final
Results, semi final
GPS-tracking, semi final
Map, final
Results, final
GPS-tracking, final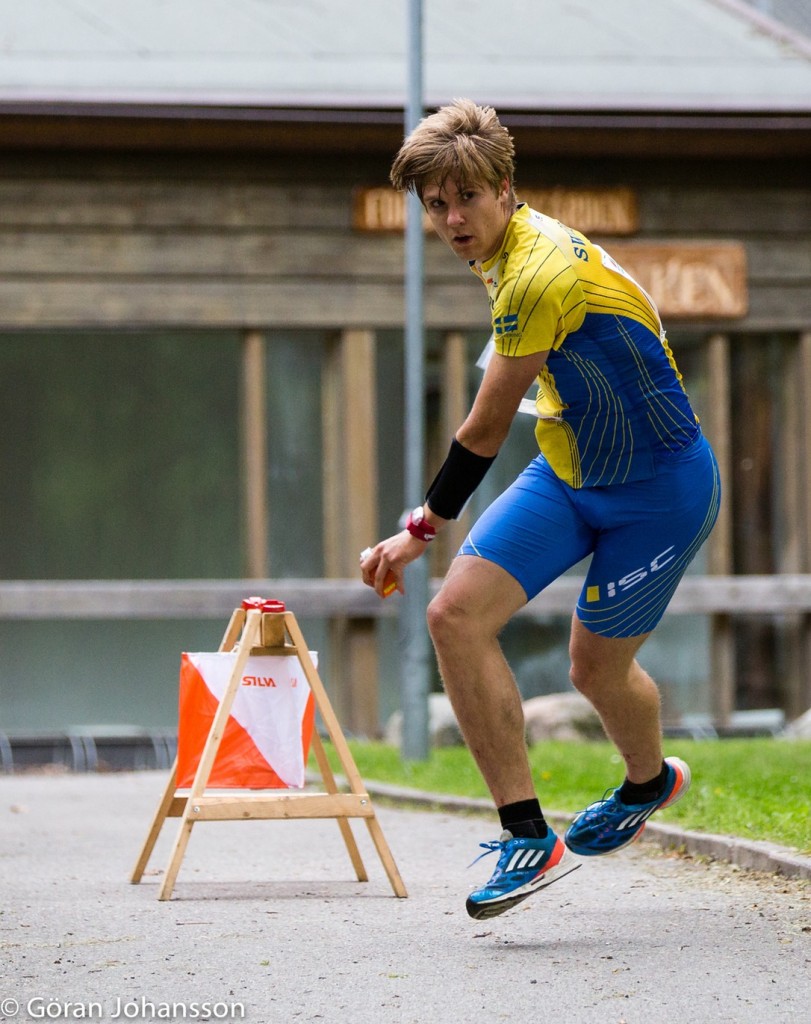 Stage 4 – Sprint Finland
I was hoping to gain some bonus seconds in the final, but my day ended already in the qualifier, after making a stupid mistake in the beginning. I misread the control description, and ended up at the womens control 50 meters south of the one I should have punched. The rest was alright though, but in the end it wasn't enough to make the final.
Map, qualifier (coming soon)
Results, qualifier
Stage 5 – Chasing start Finland
I was heading out in 4th position, with only 37 seconds up to Hertner in 3rd place, but with too much time to Kyburz and Hubmann in 1st and 2nd. Considering that, my goal for the day was to make the top 3. I did a good race, and caught up Hertner already to the 2nd control, and quite quickly getting away from him thanks to an early butterfly gaffling. Then I was running alone in 3rd position for a long time, but after a quite bad long leg where I got stuck in some green, Hertner and Merz got eye contact with me, and they managed to close the gap just in time for the last map change at the arena. Into the final loop I pushed really hard, because Merz was some seconds behind me and Hertner, and I didn't want to invite him also for a sprint finish, and it paid off, since he didn't manage to follow us. Hertner was feeling really strong, though, and it felt like I could't match his speed, especially going uphill. But he made a small mistake at control 35, and suddenly I was in front. After that he just followed me, since I guess he didn't want to risk making any more mistakes. But down the hill to the 2nd last control I got some seconds on him, and all the way downhill to the last control I had 2-3 seconds gap. Closing in on the last control, however, he made a dash to make the last control first, which he was. But I was just 1 meter behind, and to the finish I gave everything I had, and passed him quite quickly, but he fought all the way, and in the end it was quite close, but I was first over the finish line, making me 3rd in total and fulfilling my goal for the day.