Swedish Middle and Relay Championships
The cold that troubled my preparations for the long distance champs didn't want to let go of its grip on me, so the my physical shape was exactly as hard to predict for the middle as for the long. The qualifier went very well technically, and I also took it quite easy physically, saving myself for the final. Map. Results.
For the final I was hoping for really good legs, and hope was really all I could do, since this cold has made my running form a bit of a lottery, but this time I wasn't lucky. Frankly, my legs felt shit, from the first minute. But I just focused on my orienteering, and did a really good race, finishing 2nd (again!) 8 seconds behind Oleksandr Kratov. Despite my good run, I couldn't help but to be a little bit disappointed. I am very happy with my silver medal, and I am really satisfied with my orienteering performance, but I am getting really pissed on the cold that never seem to release its grip from me. I know that I could have been faster, and I know that I should have been faster, which makes it a bit harder to let go… Map. Results.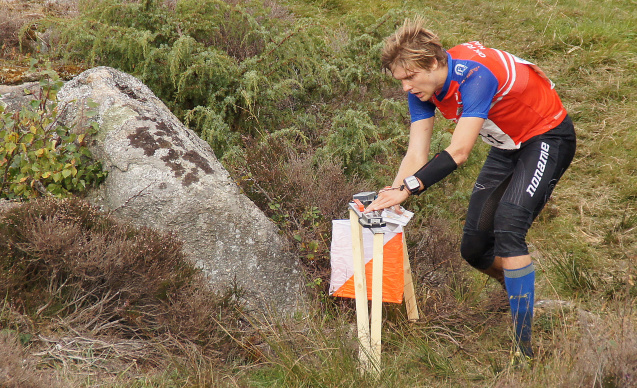 Following the middle was, as always, the relay. The last 2 years Ravinen haven't had a great team, and we've ended up in 28th place 2 years in a row. This year, however, my brother has become a senior, and also being in better shape than ever, and with Martin Lindskog (with enormous experience of first leg running!) in the team we had a pretty decent chance of getting a good result. While thinking it through before, I thought that a place in the top 10 was a very difficult, but realistic, goal for the team, and that was what we worked towards.
After a solid performance from Martin on the first leg, he handed out Kalle as 49th. Despite him being annoyed with a 2 min mistake in the beginning, Martin did exactly what we hoped for: A solid race, not losing too much time, and changing over in a big group.
Kalle started off great, picking 26 places (!) to the first radio control, and continuing his good race all the way to the end, handing me out as 16th, and I just couldn't wait to get started chasing the top 10. And finally my legs felt as they should! So I just went for it, pushed really hard all the way, and orienteering pretty much perfect, which resulted in me winning the last leg with 2 minutes, and picking to an 8th place; Ravinens best SM-relay result since 2005. Since Martin is only 39 years old, he's still got many good years ahead of him, and with me and Kalle getting better and better each year, we will soon be aiming for the medals!