Sprint-SM Gold in Uppsala
I came into this weekend as reigning Swedish Champion in sprint, which has never happened before, and I was feeling quite optimistic about my chances for another good race, and hopefully a medal. My expectations for the event was sky high, since I really trusted the organisers in OK Linné, and I knew that they wanted to make great courses for us runners.
The qualifier, in south east Uppsala suburb Sävja, turned out to be really fun. A technically demanding course, with good routechoices and some, by the organiser, closed gaps in a fence that turned out to be really decisive. I had a good clean run, not pushing 100%, and felt like I was in total control. Until I came to the closed gap in the fence. I find it really hard to see theese "artificial" extra fences on the map, especially if they (like in this case) crosses a path, or a road, in an unnatural way. You see the road begin, and you see it countinue after the fence, and it is just hard to see when you run in full speed. Anyway, a understood quite quickly what was going on, and could avoid the fence, only losing a little bit less than 10s, which compared to others was not bad at all. I won my qualification heat quite comfortably, and could enjoy the fact that I was going to start last in the final (which I really like!).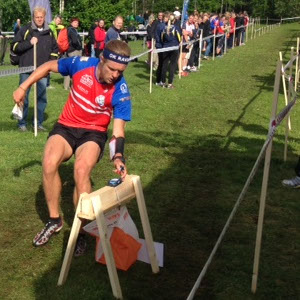 The final, in central Uppsala, with the arena at Uppsala Castle, also turned out to be just great. The beginning of the course was quite technical, and here I was feeling really good, and had the lead coming out to some longer legs around Uppsala Cathedral, where I lost some (not much) time just in running speed compared to Jonas and Jerker. But then I did exactly the same thing as in the qualifier! An extra fence closing off a road, and I was heading straight to it. I did, once again, realise my mistake quite early, and could avoid a disaster, only losing 15s, which wasn't too bad compared to Jonas 45s. Apparently there was only about 20% of the A-final runners that took the right routechoice, and a lot of people lost a lot of time. After that we climbed up the hill towards the castle for an arena passage, where I heard I was 10s behind, which didn't feel so bad, with my 15s-mistake fresh in mind. The last loop was tough physically, and had a lot of challenging routechoices, and it was here I definitly decided the race, almost catching up Jonas with 1 minute, and just pushing hard all the way, and I ended up winning with 14s.
So I defended my title as Swedish Sprint Champion, which feels great, and a little bit surprising, even though I know that I am a strong sprinter. I have never beaten Jerker on 2 consecutive sprints before (and you could count all my sprint-wins over him on one hand!), and I it just feels like I really have developed a lot in sprint this year.