New Zealand World Cups
The first World Cup round is over, with 3 races here in New Zeeland. I have done some decent results, even though I'm not in my best shape.
The first race went very well technically, except for one control, where I made a quite big mistake. The sand dunes felt very tough, and I felt that I had to fight already early in the race. However, I managed to keep up a quite good speed, and ended up in an 8th place. Good result, but I was aiming a bit higher!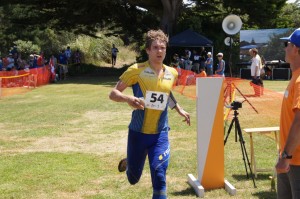 The second race, sprint in Wellington, didn't turn out so good. The qualifier was alright, except for a stupid mistake to the first control. My legs felt good, and I could easily make the final without pushing. The final, however, was a bit of a disaster. Until the spectator control it was alright, but I messed up pretty badly on the long leg, losing more than 45 seconds. After that I also lost quite much time being stuck in some bushes, and making a few bad routechoices, and in the end I probably could have run between 1½ and 2 minutes faster. Not good enough. Why did this happen? I know that one of the reasons is that my preperations weren't good enough. To the next time, I am going to put a bigger effort in understanding the area beforehand. Once again I had top 6 well within reach, but managed to miss the opportunity by making a lot of mistakes. It won't happen again!
Map, qual, part 1
Map, qual, part 2
Results, qual
Map, final, part 1
Map, final, part 2
Results, final
The third race was something new. A prologue and chasing start, at the same day, in 37°C, with no trees to shelter from the sun… Anyway, the prologue went fine. This kind of race suits me well, with only 25 minutes winning time. Even though I didn't feel that good physically, I could still push hard all the way, and ended up in 5th place. In the chasing start, on the other hand, I hadn't much to give. Me legs felt bad already early in the race, and I had to fight really hard to keep the pace of those around me. In the end, I ended up as number 10, wich, again, is a good result, but not what I am aiming at.
Map, prologue
Results, prologue
Map, chasing start, part 1
Map, chasing start, part 2
Results, chasing start
Theese first World Cup races has brought me both good and bad news. I know that I have a high capacity, and my lowest level is really high! Even so, I feel that I'm not yet capable of running as fast as the very best, and that is where I loose all of my time. This isn't easily fixed, but I'm constantly working on it and making progress. Another good thing that I take with me, is that I haven't been in my best shape at theese competitions (in fact, my shape has been quite lousy, because I have done a lot of hart training), and I still have managed to make really good results. The goal for this season is World Championships in Finland in July, and that is when I am going to be in good shape.