New year at New Zealand, with World Cups coming up!
The first World Cup race (and compitition) for this season is coming up tomorrow, and I"m really looking forward to it! My training has been going well, with more than 50 hours in November (personal best), a little less in December due to a cold, and I feel really strong coming in to 2013. This World Cup round, however, is coming in the middle of a tough training period for me, so it is a litte bit special. I have decided that I wont compromise with my wintertraining, since my main goal this season is WOC in Finland, and I have continued to train quite hard into these races. I still hope to make good results, but I know that others may be in better shape that I am, so we will see how it goes.
Otherwise my stay here in New Zealand have been great so far, with a little training, and a lot of sightseeing. I've found the geothermal activity here especially interesting, and we have had a great time.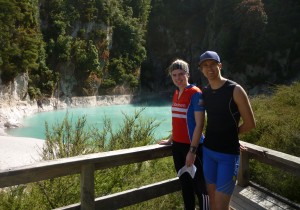 After the World Cups me, Anette, and a couple of other guys are going straight to the South Island for a weeks training and sightseein. The others are going home the 22nd, but me and Anette are staying here for another week, which we are going to spend in Auckland. We have no plans for that week yet (if anyone got any idea of what we should do, please help us out with suggestions!), but I am looking forward to some good training opportunities and nothing more.